Tooth loss can take a big bite out of your quality of life. Simple tasks like eating and smiling confidently suddenly become more challenging. Your jawbone will begin to shrink away, and your risk of oral and systemic health conditions increases. While you have plenty of options to choose from, no other tooth replacement option compares to dental implants when it comes to replacing missing teeth! This unique tooth loss solution mimics natural teeth in practically every way for optimal results.
Why choose Time to Care Dental Group for dental implants?
Partnered with local specialists for the best possible results
Replace any number of missing teeth for a lifetime
We'll handle your dental insurance paperwork and maximize your benefits
Benefits of Dental Implants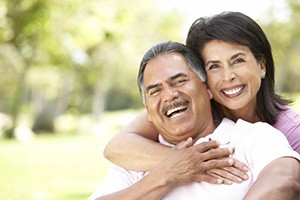 Dental implants are quickly becoming the most popular way to replace missing teeth. It's easy to see why! This unique tooth loss solution can improve your quality of life in many important ways that dentures and dental bridges simply can't. Some of the best benefits about dental implants that our patients love include:
Day-to-Day Benefits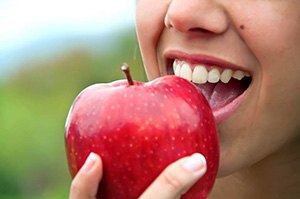 Lifelike look and feel: Once your dental implants are in place, they will be virtually indistinguishable from natural teeth in every way.
Improved biting power: While dentures only restore 25-30% chewing power, dental implants restore 80% or more of your natural biting force.
Restored ability to eat all your favorite foods: Dramatically improved biting power means you can easily eat foods like apples, nuts, steak, and anything else on your plate.
Maximum comfort: Your dental implants will never feel loose or unstable, and they won't cause gum sores or tooth sensitivity. They are fully self-supporting.
Unmatched confidence: Once again you'll be able to smile, talk, and laugh without worrying about your pearly whites. In fact, you may even forget that you have dental implants from time to time!
Health Benefits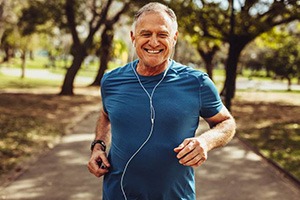 Prevention of jawbone deterioration: Dental implants are the only tooth replacement option to replace the roots of missing teeth, which is key for preventing jawbone deterioration and the sunken, aged look that often accompanies tooth loss.
Minimized future tooth loss. Keeping the jawbone strong around the roots of your remaining natural teeth will go a long way in keeping them from falling out in the future.
East care and maintenance: Dental implants don't require any specialized cleaners or tools. They can be cared for just like your natural teeth!
Boosted oral health: Since your dental implants will be easier to keep clean, they'll promote better oral health and reduce your risk of issues like gum disease and dental infections.
Long-Term Benefits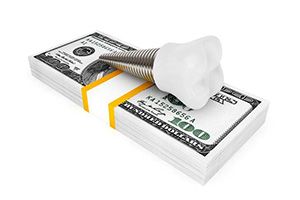 Results that can last a lifetime: Dentures and dental bridges will only last about 5-10 years before they need to be replaced. Alternatively, dental implants are designed to stay in place for 30+ years, with most patients enjoying their new smile for a lifetime!
Save money in the long run: Not only is replacing your bridge or denture every few years a hassle, but it can become quite expensive over time. The one-time cost of dental implants is initially higher than that of dentures and dental bridges. However, since dental implants will likely never need to be replaced, they can save you thousands of dollars in replacement costs alone over the years.
The 4-Step Dental Implant Process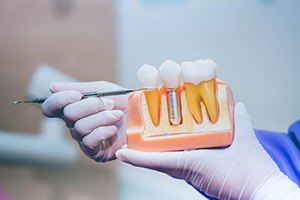 Replacing missing teeth with dental implants will take a more involved process than simply getting dentures or a dental bridge. Our expert team will refer you to a trusted specialist in the area that can surgically embed your titanium posts. You'll likely require several months to completely recover from your treatment, allowing your jawbone to bond and grow around your implants. After this process is finished, you'll come back to our office to have your new restorations fitted. Keep reading to learn how dental implants work in Edmonton and what to expect throughout the process.
Initial Dental Implant Consultation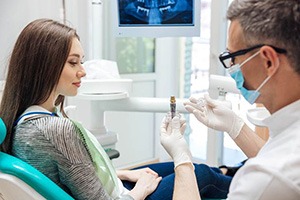 You'll first need to schedule an initial consultation with us. During this appointment, we'll discuss your smile goals, review your medical history, and thoroughly evaluate your oral health to determine if you're a good candidate for dental implants. In some cases, patients will have to receive additional preliminary treatments, such as gum disease therapy or bone grafting, before they can be eligible for the procedure. Once we've addressed any issues beforehand, we'll continue planning out the rest of your dental implant treatment.
Dental Implant Surgery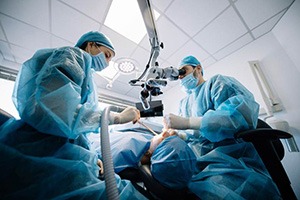 Getting your titanium posts will require a minor oral surgical procedure. Firstly, your implant dentist in Edmonton will completely numb your mouth before starting any work, that way you're as comfortable as possible throughout your appointment. They'll then make a small incision in your gums to access your jawbone. Next, the implant will be carefully inserted in the proper position before your gums are closed around it. They'll place a protective dental cap that will protect your metal post and preserve the natural shape of your gum line while you recover.
Dental Implant Osseointegration & Abutment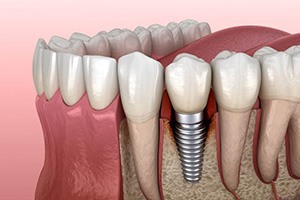 Your dental implant will undergo osseointegration over the next four to six months after placement. These metal posts will be constructed out of biocompatible titanium, which will gradually and effectively fuse and become one with your jawbone. This will allow your new pearly whites to have a stable, strong, and natural-feeling foundation. Once this bonding process is complete, we'll attach a small connector piece atop your dental implant. While you heal and grow accustomed to the abutment over the following weeks, your restoration will be constructed.
Delivery of Dental Implant Restoration(s)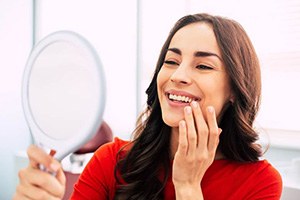 Our team will call you back into our office again for the final portion of your dental implant treatment. During your visit, we'll place your custom-crafted crown, dental bridge, or partial/full denture to your implant(s) via the abutment attached during your previous appointment. We'll then test your bite after we've secured your new pearly whites in place, that way we can ensure an accurate and comfortable result. Once we've confirmed that you're satisfied with your treatment, we'll be able to answer any further questions you might have about your teeth before sending you off to enjoy your brand-new smile!
Maintaining & Caring For Your Dental Implants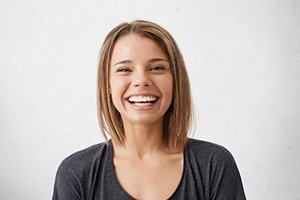 It's easy to see why dental implants are considered the gold standard for replacing missing teeth. Not only do they effectively restore your pearly whites, but they'll also preserve your jawbone and facial structure as well as prevent further tooth loss. With proper care, you can expect your results to last anywhere from a few decades to a lifetime! However, you may be wondering how exactly you can maintain your restorations for the long run. To make this easier for you, here are several ways you can practice dental implant care in Edmonton so that you can make the most of your renewed smile.
Prioritize Oral Hygiene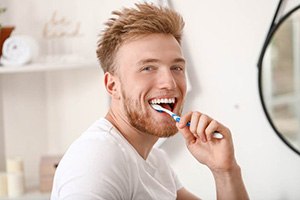 One of the most common causes of dental implant failure is an infection in your gums or peri-implantitis. This can occur due to plaque buildup around any remaining teeth and surrounding oral tissue. Fortunately, this can be effectively prevented by maintaining good dental hygiene. This will include brushing twice a day for two minutes, flossing daily, and rinsing with mouthwash frequently. By following this routine regularly, you'll be able to ensure your newly rebuilt smile can stay in pristine condition!
Stick to a Healthy Diet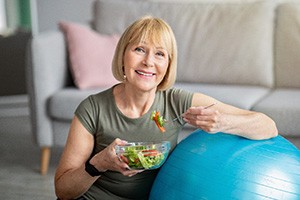 Unlike other traditional restorations like dentures, your dental implants will return around 80% or more of your biting power. Since they'll be directly anchored to your jawbone, you'll be able to enjoy most of your favorite foods without many restrictions. While you can munch on most meals, you might consider avoiding certain treats that can increase the risk of bacteria buildup. Be sure to keep from overindulging in starchy, sugary, and acidic foods, as they can raise the likelihood of accumulating plaque and contribute to implant failure. Alternatively, try sticking to lean proteins, dairy products, whole grains, and fresh fruits and veggies to promote a stronger and healthier smile.
Break Bad Oral Habits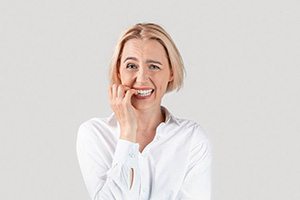 The only thing you should use your teeth for is eating meals comfortably. For this reason, you'll want to refrain from practicing poor oral habits, such as smoking tobacco, chewing your fingernails, chewing on hard objects, and using your teeth as tools. Over time, or with one wrong bite, this could lead to a trip to your dentist for emergency treatment, which can become more costly than you anticipated. If you need help, feel free to consult our team so that we can provide you with the resources and support you need to maintain good oral health.
Protect Your Dental Implants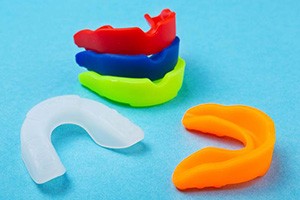 Do you often play sports where there's a chance you can get hit in the face? Speak with our team, as we can offer custom-made athletic mouthguards to protect your pearly whites. Likewise, if you tend to grind or clench your teeth at night, we can create personalized nightguards for bruxism to preserve your enamel. By adding a layer of protection to your smile, you'll be able to safeguard your dental implants from future damage.
Schedule Regular Dental Checkups
Other than brushing and flossing daily, visiting our team every six months for checkups and cleanings is essential for maintaining your restorations. We'll assess your mouth, ensure your dental implants are in good condition, and then address any underlying issues we may detect. By treating any problems early on, we'll be able to prevent more serious complications from occurring, such as cavities, gum disease, and infections.
Dental Implant FAQs
Thanks to their impressively lifelike qualities, dental implants in Edmonton have rapidly become the premier way to replace missing teeth. No matter how large the gap in your grin, chances are that dental implants can close the spaces with a natural-looking solution. If you're curious about any aspect of the dental implant process or what to expect with your new teeth, our team at Time to Care Dental Group would be more than happy to satisfy your curiosity. In the meantime, we've included the answers to some frequently asked dental implant questions below.
Does It Hurt to Get Dental Implants?
Many patients worry that because dental implants require oral surgery, the process will be painful. In truth, the vast majority of dental implant patients would compare their surgery to a standard tooth extraction in terms of comfort. Rest assured that your mouth and jaw will be numbed with local anesthesia so that you won't feel any discomfort as the implant is placed. You might experience some soreness or tenderness in the area afterward, but this should fade after a few days to a week at most.
Do Dental Implants Decay?
No, dental implants cannot decay like natural teeth can. With that being said, oral hygiene is still vital even after you've received implants. For one, any remaining teeth that you have are still susceptible to cavities. Also, improper oral hygiene might lead to gum disease, which is the leading reason why dental implants fail. This is why it's crucial to brush your teeth (natural or implant-supported), floss, and visit your implant dentist in Edmonton on a regular basis.
How Soon After a Tooth Extraction Can I Get a Dental Implant?
If you know that you're having a tooth extracted soon, it's important to plan on replacing that tooth sooner rather than later. Otherwise, the jawbone may start to deteriorate to the point where it can no longer support a dental implant. Sometimes, a patient may be able to receive an implant immediately after a tooth extraction if they have a strong jawbone and are in great oral health. In most cases, though, you'll need to wait for several months for your jawbone to heal after the extraction. Our dentists can give you an estimated timeframe based on your individual oral health.
Do I Need a Bone Graft Before Getting Dental Implants?
It depends. Dental bone grafting involves attaching a piece of bone (whether it be synthetic material or from a donor, an animal, or another part of your body) onto the area of the jawbone where an implant would be placed. Oftentimes, a patient may require a bone graft if many years have passed since they lost their teeth. Without the roots of the natural teeth to stimulate the jaw through biting and chewing, the bone begins to atrophy. Before we start planning out your dental implant treatment, we'll take detailed scans of your mouth and jaw to determine its density. Then, we can let you know whether we can move forward with implant placement or if you'd need a bone graft first.