Tooth loss can take a big bite out of your quality of life. Simple tasks like eating and smiling confidently suddenly become more challenging. Your jawbone will begin to shrink away, and your risk of oral and systemic health conditions increases. While you have plenty of options to choose from, no other tooth replacement option compares to dental implants when it comes to replacing missing teeth! This unique tooth loss solution mimics natural teeth in practically every way for optimal results.
Why choose Time to Care Dental Group for dental implants?
Partnered with local specialists for the best possible results
Replace any number of missing teeth for a lifetime
We'll handle your dental insurance paperwork and maximize your benefits
What are dental implants?
Dental implants are small, screw-shaped titanium posts. They're designed to be inserted directly into the jawbone, where they fuse with the surrounding tissue to replace the roots of a missing tooth. This provides a strong, reliable foundation for the restoration they support. Whether that be a crown, bridge, or denture. Other tooth replacement options like traditional crowns and bridges only replace the visible portion of missing teeth. This leaves them far less comfortable and functional. Dental implants recreate missing teeth from the roots up. They can give you a smile that looks, acts, and feels just like a natural set of healthy teeth!
The dental implant process
Replacing teeth with dental implants takes a more involved process than simply getting dentures or a dental bridge. First, you'll visit us for a consultation so we can ensure that dental implants are a good choice for you. Some patients need to complete preliminary treatments like gum disease therapy and bone grafting before getting dental implants. Then, one of our talented dentists will carefully replace your missing teeth. Our team will handle your dental implant surgery and place your dental implants into your jawbone.
After about four to six months of healing, your dental implants will be firmly integrated with your jaw. You'll return to our office to have them covered with your custom-made restoration. Once we've ensured that your crown, bridge, or denture fits properly, you'll be ready to go out and enjoy your new smile.
Benefits of dental implants
Dental implants are quickly becoming the most popular way to replace missing teeth. It's easy to see why! This unique tooth loss solution can improve your quality of life in many important ways that dentures and dental bridges simply can't. Some of the best benefits about dental implants that our patients love include:
Lifelike look and feel
Improved biting power
Restored ability to eat all your favorite foods
Easy care and maintenance
Comfortable results that will never slip out of place
Prevention of jawbone deterioration
Results that can last a lifetime
Who can benefit from a dental implant?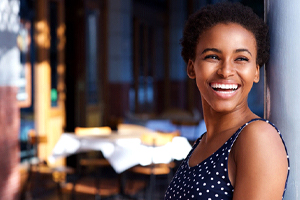 While traditional bridges, partial dentures, and full dentures are all designed to address specific types of tooth loss, dental implants can be used in a variety of situations. In other words, no matter how many teeth you've lost, you can always consider dental implants as an option. We can help you figure out if any preparations need to be made prior to the surgery.  Only then will we create a treatment plan based around the number of teeth you're missing.
Who is a good candidate for dental implants?
Part of the reason that implants have become so popular over the years is that they're viable for almost any healthy adult with missing teeth. You need three things to be considered for dental implants:
A healthy mouth: Gum disease and cavities could interfere with the implant placement process and may eventually lead to failure. Preexisting conditions must be treated appropriately before you can receive implants.
A healthy body: Some health conditions prevent the body from healing properly after surgery. We'll need to review your health history to confirm that there won't be any complications afterwards.
Jawbone density:. A low amount of bone density means that the jaw won't be able to support implants. Bone grafts can be used to restore any bone density that has been lost.
Missing 1 Tooth
Once preliminary treatments have been completed, a dental implant can be placed in the gap where the tooth used to be. The implant post will eventually be covered with a crown that has been customized to match the rest of your teeth. Particularly in terms of size, shape, and color. As a result, most people won't even be able to tell which tooth is the false one. A traditional bridge can also be used to replace a single tooth. However, it can only be attached once we have removed a small amount of natural tooth structure.
Missing Multiple Teeth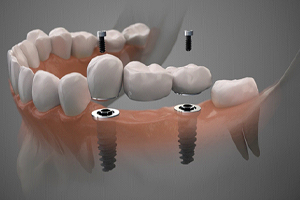 Implant bridges can be used to replace multiple teeth in a row. Implant posts are used as anchors for the crowns at either end of the bridge instead of natural teeth. Thus allowing you to fill in the empty space without losing any enamel. Of course, sometimes you might be missing teeth located in different parts of the mouth. In those cases, a single bridge wouldn't be enough. You can instead get a partial denture combined with a strategic number of implants.
Missing All Teeth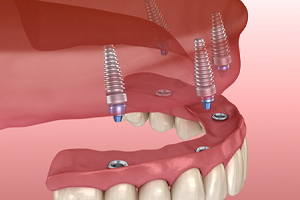 It takes about 4 to 6 implants on average to hold a denture in place. Therefore, you can restore your entire smile at once with just a few implant posts inserted at specific points along the jaw. Your new teeth won't slip or come loose while you're eating or talking. And you won't have to make any major changes to your oral hygiene routine. You'll also be able to chew tough or sticky foods that give traditional denture-wearers trouble.
If you'd like to learn more about dental implants or discover if they're a good choice for you, give us a call today to schedule a consultation!