Have dull, stained, misshapen, chipped, or crooked teeth been making it hard to find a reason to smile? While there are many ways that our team at Time to Care Dental Group can improve the appearance of your pearly whites, few are as versatile as veneers in Edmonton. You deserve a bright, Hollywood smile, and veneers are the easiest way to transform your entire grin in just a couple of appointments. Give our friendly team a call today to learn more!
What Are Veneers?
When veneers were first introduced, they were made from composite resin, but these days, most dentists use dental porcelain because of its lifelike and more durable nature. Not only that, but porcelain has a smooth, non-porous surface, making it incredibly resistant to staining – much more so than your natural teeth! These personalized shells are bonded to the front surfaces of teeth, essentially acting as little "masks." Because they cover up the tooth, they're able to instantly conceal multiple imperfections, including:
Tiny yet noticeable cracks and chips in the enamel
Slightly crooked or rotated teeth
Misshapen, short, or "stubby" teeth
Permanent stains that do not respond to teeth whitening treatment
Small gaps in between the teeth
The Process of Getting Veneers
Generally, the veneers process takes only a handful of appointments over the course of a few weeks. You'll first have to attend a consultation with your cosmetic dentist in Edmonton to ensure that veneers are the ideal way to meet your smile goals. Then, we capture impressions of your teeth to make a mold that a trusted dental lab will use to craft your veneers, making sure they replicate the size, shape, and color of your teeth. In the meantime, we'll place temporary veneers to protect your teeth and let you take your new smile for a rest run.
After about three or four weeks on average, you'll return to our office. We'll make last-minute adjustments as needed until you're satisfied with the results, and then we'll permanently bond your veneers into place. At that point, all that's left to do is walk out of our dental office with your new and improved smile!
The Benefits of Veneers
It should come as no surprise that veneers are easily one of our most popular cosmetic dentistry services. After all, they can offer as multitude of benefits, such as:
Seamless appearance – Every single veneer is custom-made to blend in with the rest of your smile.
Resistance to stains – Tooth enamel is porous and stains easily, while dental porcelain's smooth surface makes this problem far less likely to occur.
Versatility – Virtually every cosmetic flaw that a tooth has can be corrected by placing a veneer.
Durability – If you take good care of your veneers, they can last for at least 10 to 15 years.
Short treatment timeline – Considering how long veneers last, the process only takes a few short weeks!
Veneers FAQs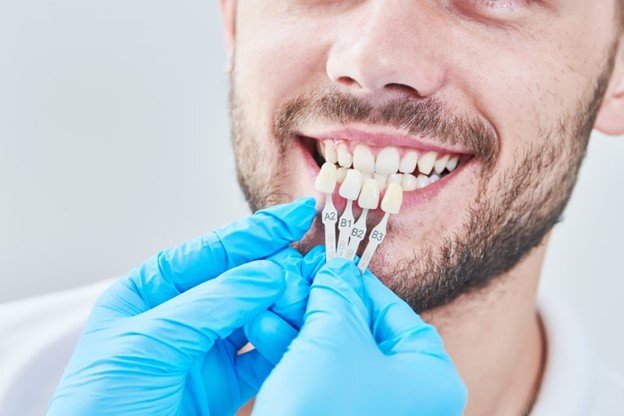 Are you considering transforming your smile with veneers in Edmonton? If so, you probably have some questions you'd like answered before you begin the process. After all, veneers are a major procedure, and your decision to get them shouldn't be made lightly. When you meet with our team at Time to Care Dental Group for a veneers consultation, we'll clear up any confusion and address any concerns you may have. Until then, we advise you to read the answers to a handful of frequently asked questions about veneers.
Are Veneers Permanent?
Veneers themselves are technically not permanent since they will eventually need to be replaced. However, the changes we make to your teeth prior to placing veneers are considered irreversible. Your cosmetic dentist in Edmonton will need to file down a very thin layer of enamel from the teeth in question. Because removed enamel does not grow back, these teeth will always need some sort of restoration covering them, whether that be veneers or crowns. With that said, veneers can last for an incredibly long time if you're diligent about your oral care.
Will I Still Be Able to Drink Coffee with Veneers?
Most coffee drinkers are all too familiar with how this beverage can stain teeth. Luckily, this shouldn't be a problem with veneers. Unlike tooth enamel, dental porcelain is non-porous, so the staining particles in darkly colored foods and beverages have more difficulty penetrating the veneers and discoloring them.
Keep in mind that while veneers are stain-resistant, they're not 100% stain-proof. Excessive coffee consumption could still darken veneers over time, so if you want your new smile to stay bright for as long as possible, drink coffee in moderation.
Is There Anyone Who Shouldn't Get Veneers?
As versatile as veneers are, there are three main conditions that could keep someone from being eligible:
Decay – If the tooth underneath a veneer has an untreated cavity, the decay could worsen and become even more difficult to treat.
Gum disease – If your gums are swollen or bleeding during the impression process, it could cause your veneers to end up fitting incorrectly. Additionally, if your gums recede later on, the margins of the veneers might be exposed.
Bruxism – Before veneers are placed, bruxism (chronic nighttime teeth grinding) should be addressed. Otherwise, your veneers are at-risk of becoming worn or fractured or even falling off of your teeth.
Is It Painful to Get Veneers?
Before the preparation and placement of your veneers, we'll almost always numb that area of your mouth with local anesthetic. Once the numbness wears off, you may experience some sensitivity and soreness for the next few days, but it should only be mild and temporary. Discomfort is more common if you're receiving multiple veneers at the same time instead of just one or two. While your mouth is recovering, you can reduce discomfort by rinsing with saltwater or taking over-the-counter pain relievers (just be sure to follow the dosage guidelines on the label).